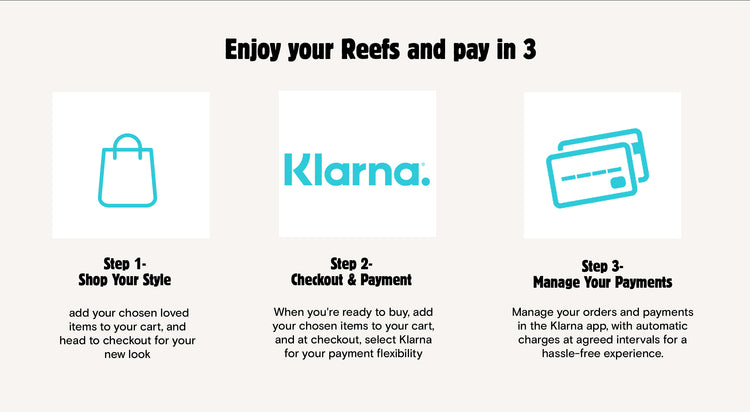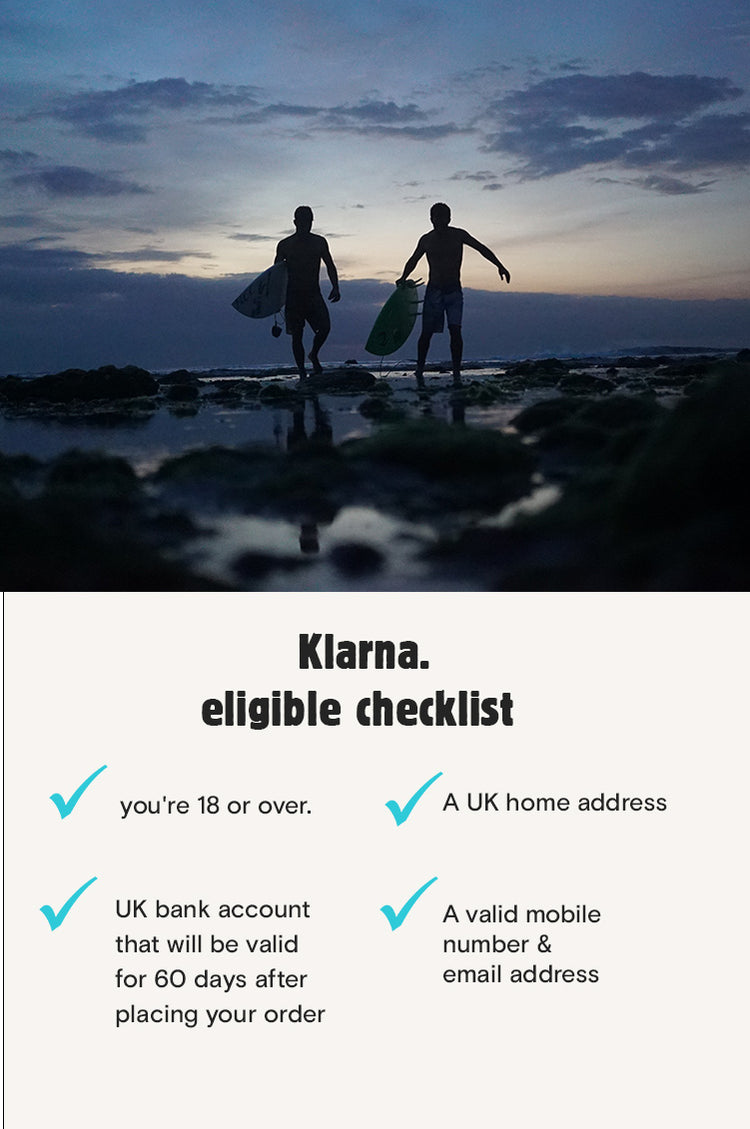 T&C's
IS MY PAYMENT INFORMATION SAFE?
Rest assured, your payment information is handled securely by Klarna. No card details are transferred to or held by Reef. All transactions take place through connections secured with the latest industry standard security protocols
WILL A CREDIT SEARCH TAKE PLACE AGAINST ME?
Klarna may run so-called unrecorded enquiries (or soft credit searches) that do not affect credit scoring and are only visible to you and Klarna, but not visible to other lenders. Neither Klarna or Reef run credit searches against you that could impact your credit rating.
HOW DOES PAY LATER IN 3 WORK?
Klarna's Pay in 3 is a credit solution allowing you to divide your purchase into three equal payments. Your debit or credit card will be automatically charged, eliminating any payment worries. The first payment occurs at purchase, the second after 30 days, and the final after 60 days. Monitor your payments effortlessly through the Klarna app
WHAT HAPPENS IF I CANCEL OR RETURN MY ORDER?
Once your order is accepted by us, if you decide to cancel or return it, Klarna will promptly pause any upcoming scheduled payments and ensure any eligible refund amounts are processed accordingly.
WHAT HAPPENS IF I DON'T PAY FOR MY ORDER?
Klarna automatically collects your Pay later in 3 payments from your debit or credit card at the scheduled date. If unsuccessful, they'll make one more attempt two days later. Failing this, you'll receive a statement for the full amount due, payable in 15 days. Klarna notifies you two days before collecting.
Failure to make payments results in arrears as Pay in 3 is a credit product. Klarna may share missed payment information with credit agencies, impacting future credit options. Klarna may also involve a debt collection agency, sharing this info with credit agencies if needed.
CAN I PAY BEFORE THE DUE DATE?
Yes. Just go to the Klarna app or log onto klarna.com/uk.
T&C's
*18+, T&C's apply, UK residents only. Credit subject to status. Klarna's Pay in 3 instalments credit agreements are not regulated by the FCA. Use of these and any missed payments may affect your ability to obtain credit from Klarna and other lenders.