Towering skyscrapers touch the clouds, golden sand dunes meet crystal-clear waters, and traditional culture blends seamlessly with modernity. Dubai is a city that has been built on a vision of the future, and its innovative and forward-thinking approach has made it one of the most dynamic and exciting cities in the world. From the bustling markets of the old town to the world-class museums and galleries, Dubai is the perfect playground for Reef sandals.

With cool blue waters and white sandy shores, Dubai's beaches offer a perfect retreat form the hustle and bustle of the city. The Reef Cushion Rem in Malibu Smoothie were ideal for a stroll along the waterfront before hitting the beach for some relaxation, overlooking the impressive Burj Al Arab. Hugging your foot in all the right places, the Cushion Rem is ready for a quick hike or a casual stroll along the beach front.
Taking a refreshing dip in the azure waters of the Arabian Gulf after enjoying a cold drink on the beach is the perfect way to beat the heat and fully immerse yourself in the beauty of Dubai's Persian coast.
Cushion Rem at a Glance
Super soft straps made from 100% recycled PET derived from post consumer plastic bottles with an elastic backstrap to fit everyone.
Our most comfortable footbed yet featuring the perfect blend of support. This is a wider shape with generous arch support and heel cupping and a 100% cork cover for certain colours.
Lightweight and durable rubber sponge outsole.
Straps made from 100% recycled PET derived from post consumer bottles.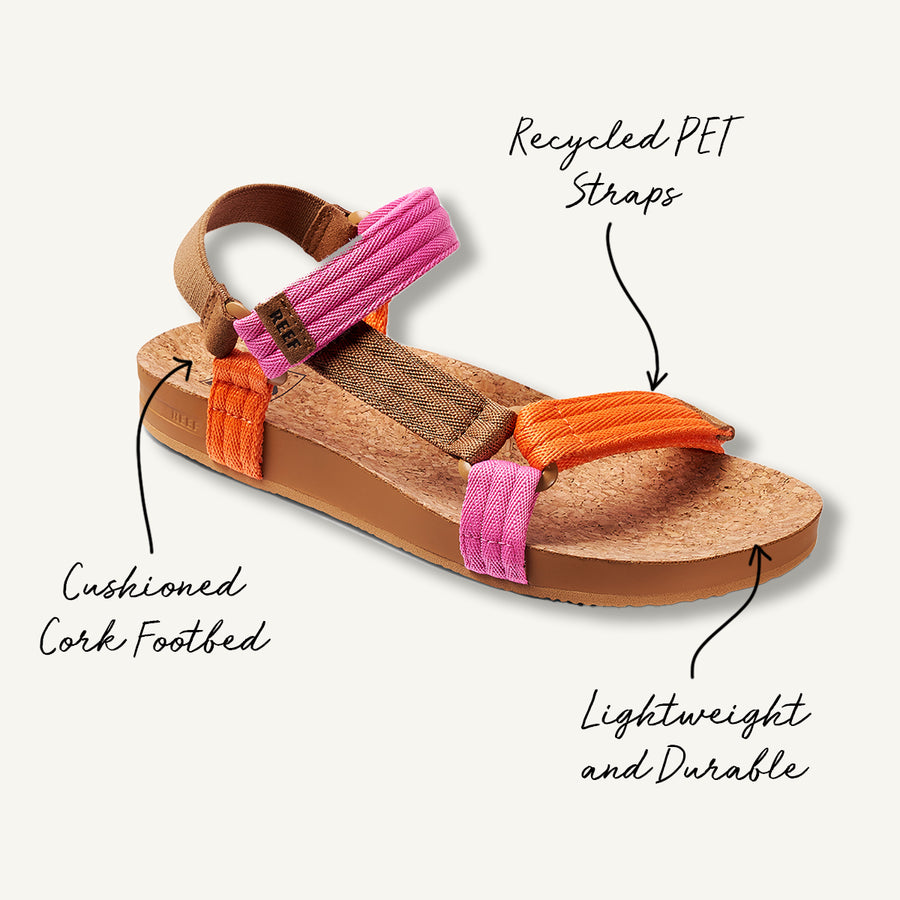 CUSHION REM - Malibu Smoothie
Wherever you go, the Cushion Rem's got you. We started with our cushiony footbed topped with natural cork, and to it we added the most comfortable straps ever, including an elastic backstrap. Best of all, these straps are made of sustainable material and gently hug your foot in all the right places. Strap in and whether it's a quick hike or a long stroll, you'll enjoy every step of your journey.
A day of exploring the city sights and swanky shopping malls of Dubai called for equally stylish yet comfortable footwear. Enter the Cushion Rem Hi, the elevated sibling of the tried and tested Cushion Rem. The soft, bouncy footbed paired with heel cupping and arch support help keep your feet cool and comfortable throughout a busy day, so you'll feel cushioned and supported from dawn til dusk.
Cushion Rem Hi at a Glance
Soft straps made of 100% post-consumer plastic material, plus a comfy elastic backstrap.
Cushiony, bouncy energy with arch & heel support.
Durable rubber outsole in a cute, thicker style.
Lightweight and durable EVA outsole with a platform silhouette and added lug design for traction.
Whisper White straps are made from 100% recycled PET derived from post consumer bottles
CUSHION REM HI - WHISPER
Let's be a little cagey, as in straps that hug your foot all the way around, including a comfy elastic backstrap. The Cushion Rem Hi features our signature cushiony, bouncy footbed, with ultimate arch support, heel cupping, and a genuine cork topsheet. Best of all, these sandal's straps are made from 100% post-consumer plastic material, so you can feel good about them in every way. A layered, on-trend sole takes these platform sandals up a notch, so to speak. Cute, comfy, and up for anything.